Times are shown in your local time zone GMT
Ad-blocker Detected - Your browser has an ad-blocker enabled, please disable it to ensure your attendance is not impacted, such as CPD tracking (if relevant). For technical help,
contact Support
.
Welcome
AO ORL-HNS is delighted to welcome you to the 15th Asia Oceania Otorhinolaryngological Head and Neck Surgery Congress held in Brisbane from 8-12 March 2023.
The meeting will be held in conjunction with the Australian Society of Otolaryngology, Head and Neck Surgery Annual Scientific meeting. The congress expects to attract 1,200 delegates, predominantly from across the Asia Oceania region. The 15th Asia Oceania ORL-HNS Congress 2023 theme is "Reaching Out Maximising regional cooperation and resources to advance patient care".
To watch the live streams go to the program and click on the 'watch now' icon next to the session or join the channel through the top menu option. For information on how to navigate the platform, refer to the FAQ page with further details.
If you miss any of the live sessions, this will be available on demand within 24 hours- 48 hours. On demand is available until 31 December 2023.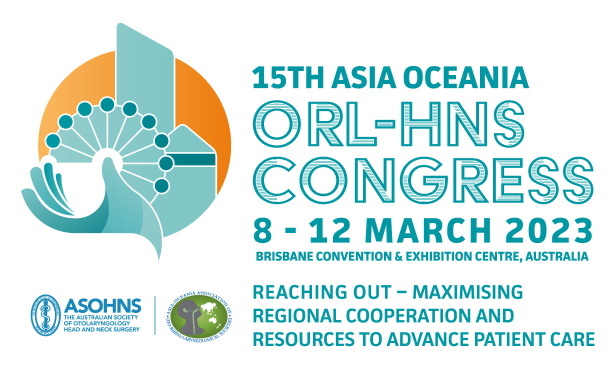 Speaker
Meet your highlight presenters
Thank you to our Industry Partners for their contribution to AO ORL-HNS 2023
Thank you to our sponsors